The phrase "work from home" has quickly become the new normal, and it while it may have been a hard adjustment at first, it has its perks. This list will help bring a little more enjoyment to your everyday work-from-home routine.
1) Develop a routine.
Getting into a schedule is part of everyday life, especially now that so many of us work from home. Find things to hold you accountable each day, from morning workouts and daily walks, to scheduled meals and breaks.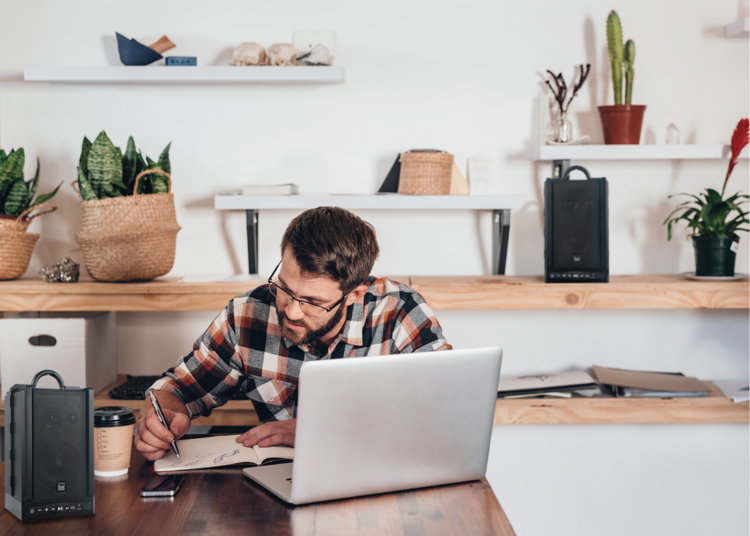 2) Have a good playlist.
Good music is key to getting you in the zone while you work from home. Whether you're streaming your favorite podcast to get you going in the morning or listening to your special work playlist, having the right equipment handy can make all the difference. The Dual LU48BTS Wireless Portable Bluetooth Speakers are a great addition to any desk or work space. The DBTMA100 Digital Amplifier with Bluetooth is perfect for when you need to crank up the volume on your breaks.
3) Prep your meals and snacks for the week.
Utilize your time at home by planning out your meals and snacks ahead of time. Get everything ready for the week by shopping and prepping Sunday night to avoid the inevitable quarantine snacking on Monday! That extra time in the house could even allow you to do more cooking with family or master some of those recipes you've been wanting to try.
4) Get some fresh air.
Whether you prefer morning jogs or evening walks with the dog, it's important to get outside, stretch your legs, and get some Vitamin D. If you have the option to work outside and weather permits, a change of scenery never hurts either. Turn your outdoor patio or lanai into a relaxing work environment with the Dual LU53PB and LU53PW indoor/outdoor speakers!
5) Create a productive work station.
Make your space your own with things that help you get through the day – from the right stationery and office supplies, to other desk accessories like the Dual UVS10W for wireless phone charging and quick sanitization of your daily handheld items (needed now more than ever)!