Trying to get your summer body ready? Luckily, you don't need a gym membership to get fit in 2022. With plenty of home workouts and gym equipment available, getting in shape from the comfort of your home can be easy and convenient. Here is a list of this year's best home gym equipment to help you get started.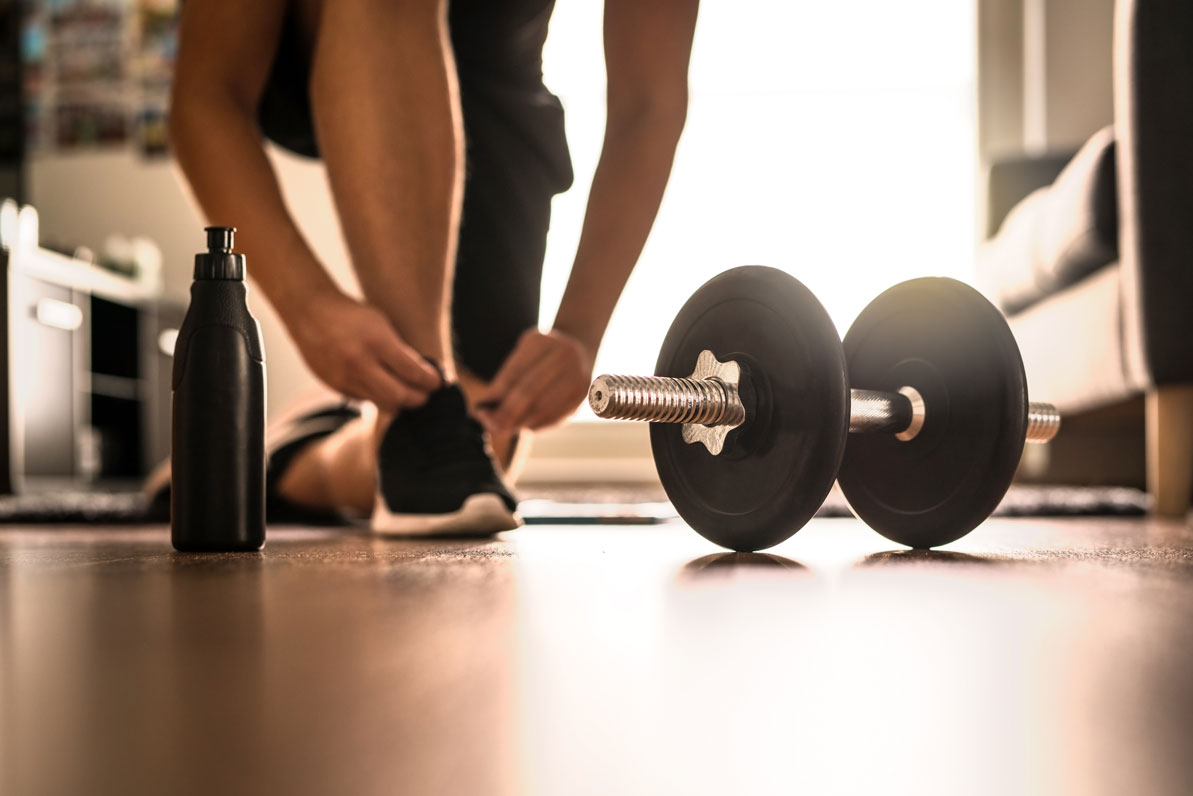 Workout Mat
Whether you practice yoga or need a comfortable spot for an ab workout, an exercise mat is essential. Amazon has several options to choose from, but this Gaiam Yoga Mat is extra thick, affordable, and comes in a variety of colors. The sticky non-slip surface provides a superior grip and makes it easy to clean.
Resistance Bands
Weighted bands are great for toning arms, glutes, chest, shoulders, and legs, and can be used in several workouts. This set comes in a variety of colors and weights, making them suitable for a range of daily home workout needs. The non-slip handle and strong-wear resistance give them great elasticity and quality meant to last at an affordable price.
Dumbbells Set
Dumbbell weights are a home gym necessity, offering versatility to target specific muscle groups or complete a full body workout. This Cap Barbell set comes with a pair of 5-lb., 10-lb., 15-lb., 20-lb. and 25-lb. rubber hex dumbbells and a rack for storage. The A-frame rack design maximizes floor space, and the original hex design of the dumbbells will prevent any unwanted rolling.
Peloton
If you have the budget, a Peloton bike is a great way to take your home cardio workouts to the next level. The memberships include access to virtual classes from personal trainers and instructors, relieving the stress of searching for workouts. The bikes start at $1,195, with the price increasing for add-ons like shoes and weights (payments can be made monthly). Members have full access to classes any time, so you can work around what fits into your schedule.
Bowflex
Another pricey but all-inclusive home gym option is the Bowflex PR3000. This single piece of equipment offers over 50 quality gym exercises for full-body workouts with a heavy-duty steel construction frame. With power rod resistance ranging from 5lbs.–210 lbs., control the intensity of your workout based on your personal needs.
Power Rack
If you're looking to add a squat setup to your home gym, the Fitness Reality Power Rack is a great choice. Order the power cage by itself or add on a lat pull-down attachment and/or bench to fit your workout needs. Wide, narrow and hammer grip pullups are all available and can be reversed to lower the height of the cage. The elevated and curved support brace allows you to maximize your workout space without tripping over anything.
Tempo Mirror
This sleek workout mirror is considered an "all-in-one" home gym solution, featuring an HD touchscreen and stereo speakers, 3D-vision and A.I., and all the workout equipment you need. The freestanding design provides an easy setup and built-in storage allows you to conveniently pack up the equipment post-workout. Tempo acts as a personal trainer through smart technology to correct your form, recommend weight changes, and help you progress.
Treadmill

A basic addition to any home gym, treadmills come in several sizes and prices. At less than $200, the Sunny Health foldable manual walking treadmill is a great option if you need something compact for a smaller space. The GEEMAX 2-in-1 Folding Treadmill has 2 sport modes, so you can walk at your desk or simply raise the handlebar to transform it into a jogging treadmill. The LED monitor and remote control allow you to easily read the time, speed, and calories. For a higher-budget treadmill option, consider the NordicTrack T Series, featuring OneTouch incline and speed control and live streaming of on-demand workouts with the optional membership.
Jump Rope
If you're looking for a simple way to do cardio while still feeling the burn, consider buying a jump rope. The multifun jump rope comes in a variety of colors, features a durable steel rope and an HD LED display to count time, reps, and calories burned. Easily adjust the weight of the rope according to your height.
Medicine Ball
Another essential for any home gym, medicine balls allow you to perform a range of workouts at a low cost. The Power Guidance Ball is available in weight sizes ranging from 6-30 lbs., providing cardio and core training options for all levels and goals. It's filled with high-density sand and lined with non-slip rubber, giving it a sturdy grip that won't bounce back.
Speakers
This may not seem like a home gym requirement, but no workout is the same without the right music. Whether you want a portable TruWireless Bluetooth option or have the capacity for a set of mounted speakers, make sure you have the right equipment to get in the zone with your favorite workout playlist.