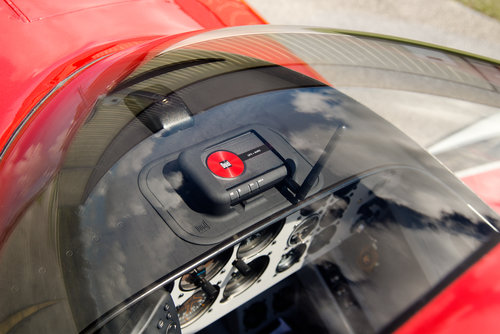 Upgrade to Dual Band Reception
The XGPS170D features a WAAS GPS, dual band (978/1090 MHz) ADS–B receiver for weather & traffic information. The receiver works with many EFB apps. It connects to up to 2 devices via Bluetooth, and is compatible with iPad, Android and Windows tablets. The internal battery lasts 5 hours of continuous operation, and the receiver can be charged with the included 12–30V adapter and wall charger. A non–slip pad is also included for convenience.
FAA's ADS–B Weather and Traffic Information in the Cockpit
Introduced more than a decade ago by the FAA, ADS-B (Automatic Dependent Surveillance-Broadcast) provides weather and traffic information to all aircraft equipped with an ADS-B receiver, such as the XGPS170D, subscription–free. The ADS-B weather & traffic data is displayed on a compatible EFB app (sold separately) on an iPad, Android or Windows tablet.
The XGPS170D provides the following ADS–B In services:
Flight Information Service–Broadcast (FIS–B). FIS–B provides regional and continental NEXRAD radar imagery from the National Weather Service, as well as NOTAMs, METARs, TAFs, PIREPs, winds aloft and other valuable in–flight weather services. FIS–B also includes information on temporary flight restrictions (TFR) and special use airspaces (SUA).
Traffic Information Service Broadcast (TIS–B). The TIS–B information is air traffic information obtained from ATC radar and broadcast from ground radio stations. This information greatly enhances pilots' situational awareness and aids their visual orientation of nearby aircraft traffic.*
(*ADS–B traffic broadcasts are only transmitted from the ground transmitters in response to an ADS-B Out transponder operating on your aircraft or another aircraft in the area.)
The XGPS170D also receives position reports directly from a nearby aircraft operating ADS-B Out transponders on 978 MHz and/or 1090 MHz frequencies.
The removable ADS-B antenna on the XGPS170D allows pilots to connect to an external antenna on the aircraft. (This should be a dedicated, passive transponder antenna that is located at least 3ft away from the active transponder antenna.)
Wireless Bluetooth Connectivity to Two Devices
The XGPS170D wirelessly sends GPS and ADS-B data via Bluetooth to up to two devices simultaneously. The XGPS170D can be positioned up to 30ft. away from the connected tablet or a smartphone.
Bluetooth Advantage over Wi–Fi
Because the XGPS170D uses Bluetooth, the Wi-Fi connection on your device is left free for other uses, such as connecting to the Internet (for weather services, flight plan updates, etc.) or to another accessory. There are no hassles with switching between networks and no service interruptions when using Bluetooth connection.
Set Up is a Breeze
It takes less than a minute to pair your mobile device with the XGPS170D, and the receiver will remember your device and reconnect automatically the next time you turn it on.
Built–In Rechargeable Battery
The XGPS170D has a built-in rechargeable battery that lasts for up to 5 hours of continuous use. The included 12-30VDC cigarette lighter adapter charges the receiver (or your tablet) in a car or in an aircraft. The XGPS170D can also be charged using the included wall charger, or the wall charger that comes with your tablet.
Useful In and Out of the Plane
At your destination, the XGPS170D becomes an ideal navigation assistant. Take it with you to the car, on a boat or hiking. Set it for GPS-only mode for use with pretty much any app that requires location information, including apps for car and marine navigation, golfing, geocaching, hiking and many others. (Although the GPS receiver works anywhere in the world, please note that the ADS-B weather signal typically cannot be received on the ground in most places.)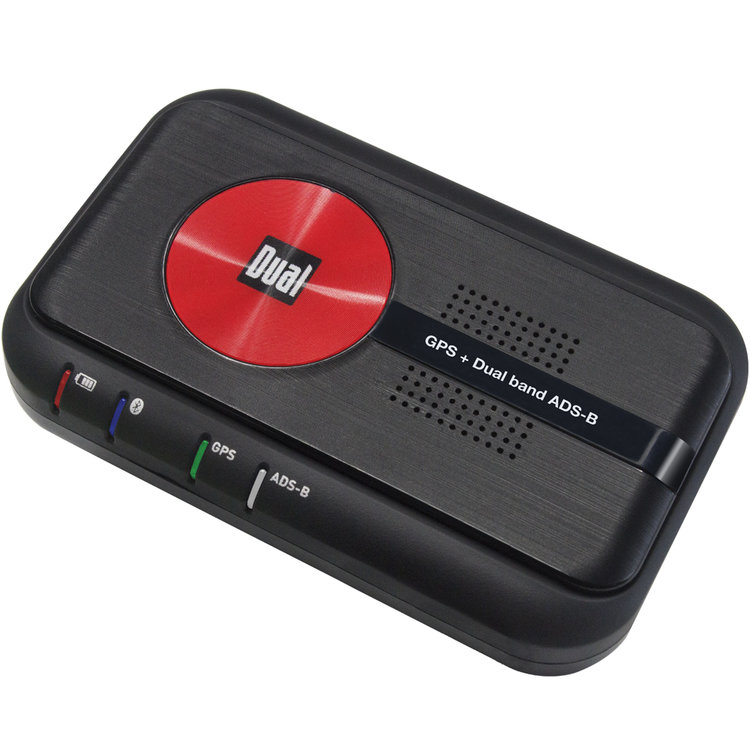 Specifications
Dimensions (W x H x D)
XGPS170D (without the antenna): 4.3″ x 2.7″ x 1.0″
Non–slip pad: 3.7″ x 5.6″ x 1.0″
Weight (with the antenna): 5.3oz
ADS–B
978MHz in (receive only)
1090 MHz In (receive only)
GPS
L1 frequency, SBAS (WAAS, MSAS, EGNOS, GAGAN) supported
Cold start: < 29 sec. typ. (open sky)
Warm start: < 25 sec. typ. (open sky)
Bluetooth:
CSR engine
Version 2.1 + EDR
Range: ~ 10m (~ 33 ft.) (open space)
Environment requirements:
Operating temperature: 14°F — 140°F (–10°C — 60°C)
Storage temperature: –4°F — 176°F (–20°C — 80°C)
Relative humidity: 5% – 95% non-condensing
Operating Altitude
XGPS170D Voltage
Internal battery
Operating time: ~ 5 hours of continuous use (ADS–B mode)
Charging time: ~ 3 hours
Cigarette Lighter Power Adapter
Input: 12—30 VDC
Output: 5 VDC, 2.1A
Wall Charger
Input: 100–;240 V AC, 50/60Hz
Output: 5 VDC, 2.1A
What You Get
The XGPS170D GPS + ADS-B Receiver
Removable ADS-B Antenna
12-30V Cigarette Lighter Adapter
Wall charger (100-240V)
Mini USB to USB charging cable
Non-slip pad
Owner's manual with warranty information