Stuck in rush hour again? Beat the traffic during your daily commute or plan the perfect roadtrip with this list of top navigation apps for your Apple CarPlay/Android Auto receiver.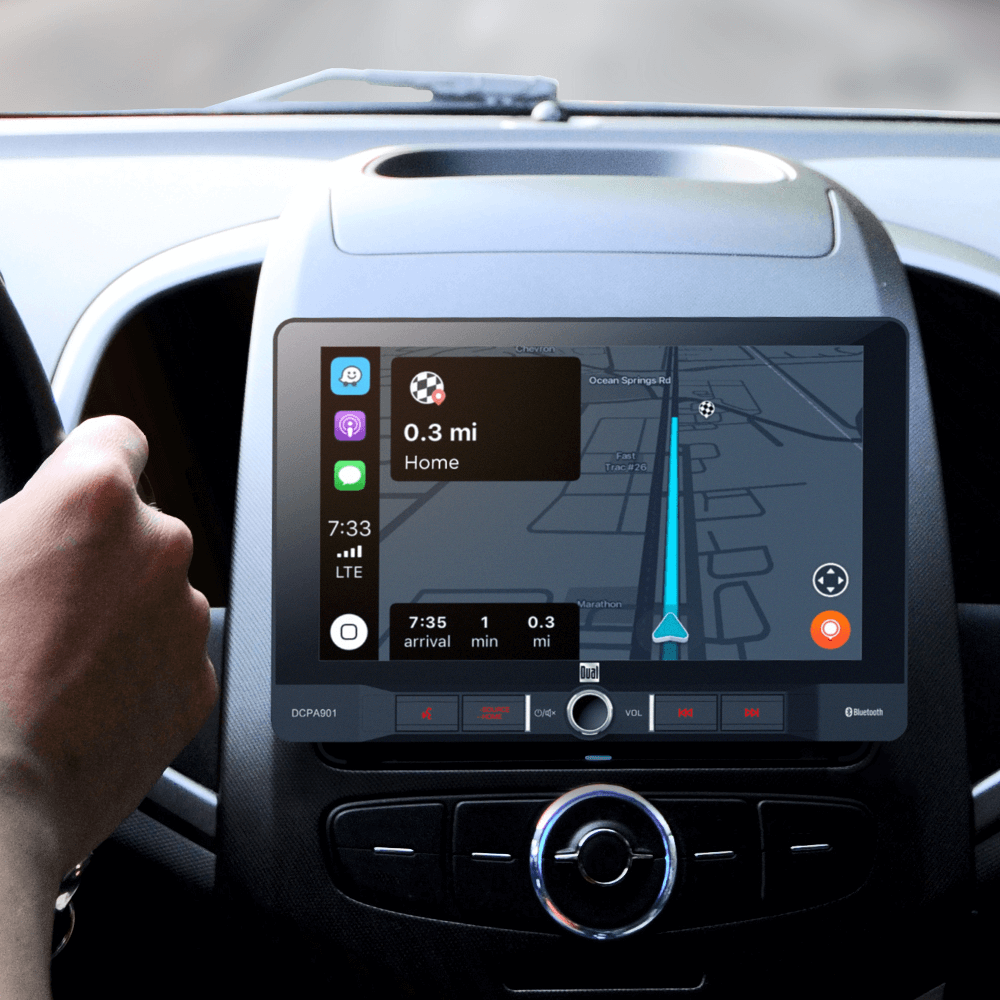 Apple Maps
As the name suggests, this web mapping service developed by Apple is the default mapping system for iOS. It provides directions and ETAs for driving, walking, cycling and public transportation. Features include turn-by-turn directions, voice navigation, 3D map view, live weather prediction for your destination, and the fastest route based on traffic, location, and time of day.  
Google Maps
This navigation app offers satellite imagery, aerial photography, street maps, 360° interactive panoramic views of streets, and real-time traffic conditions. It also features route planning for travel by foot, car, bike, air and public transportation. Get real-time GPS navigation and traffic info for millions of locations in over 220 countries and territories. 
Waze
This popular navigation app uses data and input from other app users to determine the best routes and ETAs in real-time. It also alerts you of upcoming roadblocks, changes in ETA, alternate routes, cop sightings, traffic jams and more. 
InRoute

Route Planner
If you spend a lot of time on the road for work, this is the perfect navigation app for you. Create customized optimal routes based on your planned stops for the day, or chart your own course using weather, elevation and more. Voice-guided turn-by-turn directions allow you to get to where you're going without any distractions.  
TomTom GO
Featuring live traffic, speed cameras and offline maps uploaded weekly, TomTom GO offers a great driving experience with real-time updates. Offline maps allow you to save your mobile data, and live traffic and speed alerts keep you up to date while driving. Get turn-by-turn moving lane guidance, find alternate routes, or share your ETA with friends and family.  
Roadtrippers
With pre-made trip guides for must-see stops and things to do across 17 billion miles, this is a perfect navigation app for planning a roadtrip! Discover millions of places from restaurants and hotels to national parks and roadside attractions, then use turn-by-turn navigation to lead the way. The free version allows you to plan your route with up to seven waypoints, while upgrading to Roadtrippers Plus allows up to 150 waypoints.  
Karta GPS
This navigation app allows you to download any map in the world for free without needing an internet connection. It provides automatic rerouting with live traffic updates, turn-by-turn instructions, speeding camera alerts and more. Customize your navigation icons and voices or look for restaurant suggestions in your area to get the most out of the app.  
Looking to get more out of your Apple CarPlay/Android Auto receiver? Enjoy your drive with our list of entertainment apps.