With 2021 in the rearview mirror, people all over the country are starting to feel safe enough to get back out on the road again. Whether you need enough space to comfortably drive the family around, are looking to increase fuel efficiency, or need something to tow your boat to your next vacation destination, there is an ideal car for you. Find the right vehicle for your travel needs in this list of best roadtrip cars.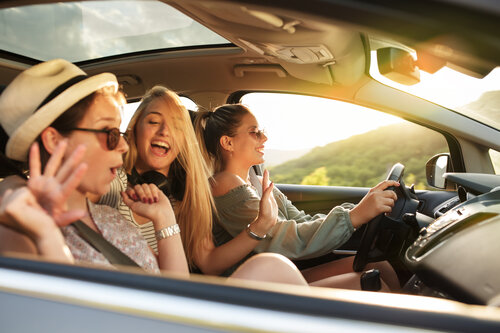 1. Toyota Highlander Hybrid
This top-ranked hybrid and electric SUV comes standard with two electric motors and a 2.5-liter four-cylinder engine for a combined output of 243 horsepower. This hybrid earns an EPA-estimated 36 MPG city / 35 MPG highway and can pull up to 3,500 pounds. Standard features include Apple CarPlay/Android Auto, Bluetooth, a WiFi hotspot, 5 USB ports and an 8" touchscreen. This is one of the better roadtrip cars if you're looking for something efficient that can still tow a boat or trailer. 
2. Honda Odyssey
If you need more space and comfort for your family roadtrip, the Honda Odyssey offers more than your average "Soccer Mom" minivan. The Odyssey comes standard with a 280-horsepower 3.5-liter V6 engine that produces 262 pound-feet of torque. It also earns an EPA-estimated 19 MPG city / 28 MPG highway, and can tow up to 3,500 pounds. The engine provides enough power for everyday activities and the 10-speed automatic transmission makes clean shifts. Standard features include two USB ports, Bluetooth, a 5″ infotainment display, and a seven-speaker stereo. With room for eight people, this vehicle has plenty of space to keep your passengers comfortable on a long roadtrip.
3. Jeep Wrangler Unlimited
If you're planning a trip off the beaten path, the Jeep Wrangler is the right roadtrip car for you. With a 260-horsepower turbo diesel and a 375-horsepower plug-in hybrid, locking front and rear differentials, an upgraded transfer case and four-wheel-drive system, and a sway bar, this vehicle is packed with all the features you need for an off-roading adventure. The four-door Wrangler has seating for five, one of the highest cargo capacities among all compact SUVs (72.4 cubic feet), and 20 MPG city / 24 MPG highway. 
4. BMW X3
This luxury compact SUV features a spacious interior and powerful engine lineup, with a turbocharged four-cylinder that produces 248 horsepower, and an EPA-estimated 25 MPG city / 29 MPG highway – some of the best numbers in its class. The synthetic leather upholstery seats up to five people, but offers 62.7 cubic feet of cargo space with the rear seats folded down (28.7 with them in use). With standard features including a 10" touchscreen infotainment system, WiFi hotspot, two USB ports and navigation, this top-of-the-line roadtrip car will keep you plugged in while making sure you don't get lost. 
5. Ford Mustang Convertible
If you and your partner are ready to hit the open road with the wind in your hair, the Ford Mustang Convertible is the perfect roadtrip car for you. The standard four-cylinder produces 310-horsepower and boasts 21 MPG city / 32 MPG highway – impressive fuel efficiency for a muscle car. As one of the smaller options on our list of roadtrip cars, the Mustang's limited seating and cargo space makes it impractical for more than two travelers.
6. Chevrolet Suburban
Whether you need ample cargo space for your luggage and gear or seating for the whole family, the Chevy Suburban has the size and technology you need for your next roadtrip. This massive SUV holds a whopping 144.7 cubic feet of cargo space or seating for up to nine people. Standard features include a 10.2" touchscreen, Apple CarPlay/Android Auto, WiFi Hotspot, eight USB ports, six speakers and satellite radio – plenty of options for keeping your passengers plugged in and entertained on the road. If you're looking for the best fuel economy option, go with the 277-horsepower 3.0-liter turbo-diesel engine. Fuel economy with the standard engine is 16 MPG city / 20 MPG highway, while the turbo diesel gets 21 MPG city and 27 MPG highway.
7. The car you already have
If you're not in the market for a new vehicle, there are a few ways you can upgrade the car you have now to make it "roadtrip-ready." Small improvements like installing a backup camera, using the right navigation system or stereo, and packing the right snacks and supplies can make a huge difference. Check out our list of roadtrip tips to ensure you have all the essentials before traveling.